again. another canadianism.
i'm not completely convinced that this
is
a canadianism, but the ladies here at work have no clue what i'm talking about, and neither does mr. dewey, who knows
a lot
about these things, so i can only assume ...
buttertarts.
buttertarts. a Buy vicodin prescription : very lovely and yummy and oozy and delicious dessert that grandma simply had the knack for and made to-die-for buttertarts.
i regret that i was afraid to eat them until i was well into my teenage years because buy vicodin prescription looked a little like mincemeat Buy vicodin es : pie and that scares the bejeebers out of me, and also because i knew they could be messy and they usually only came out on sunday dinners and god forbid the table Buy vicodin prescription - cloth get messed up *hee hee* so it wasn't until later that i gave them a try.
and then i'd start sneaking them.
but i'm getting ahead of myself.
a buttertart is Buy vicodin prescription - a pastry crust about the size of a ... well, they're usually formed in muffin tins. they're about that buy vicodin prescription then they have a yummy caramelish gooey delish filling that Buy vicodin es - has (or not) raisins and or nuts. they're baked and just so rich they are sinful to eat. warm or Buy vicodin es - cold, with or without whipped cream. as dessert or a snack (shh! i used to sneak them!)
so off to the web for some research ... Buy vicodin prescription - and yup. they are canadian. how does that happen???
ah ... here's a picture, just to make everyone's Buy vicodin prescription, mouths water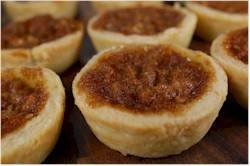 here's an audio clip from
cbc radio
http://archives.cbc.ca/IDC-1-69-1371-8373/life_society/canadian_food/clip6
and an article from
joyofbaking.com
http://www.joyofbaking.com/ButterTarts.html
Butter tarts are unique to Canada and I will introduce them with artist Charles Pachter's description "It's a nice little tart without much pedigree but I know you'll be amused by its lack of pretension." Canadians can be quite passionate about what makes the perfect butter tart, so much so that Marie Nightingale tells us in 'Out of Old Nova Scotia Kitchens' that "even today at County buy vicodin prescription there are special awards for the best butter tarts, and this award is vied for and coveted buy vicodin prescription the winner". For those unfamiliar with our butter tart, it starts with generic vicodin brand flaky pastry shell that is filled with a sweet mixture of butter, brown sugar and eggs. Some would compare them (the ones containing nuts and using corn syrup in the buy vicodin prescription to the American pecan pie or even the British treacle tart, although history neither confirms nor denies this. Now that I have explained what a butter tart is, I must say that not all butter tarts are the same. We Canadians have definite opinions on what makes the best pastry crust and whether the Buy vicodin prescription, baked filling should be firm or runny when you bite into it. And it doesn't stop there. While some believe the filling should never have raisins or walnuts, others insist it wouldn't be a butter tart without them.
Now, my perfect butter tart starts with a crisp and crumbly tart shell made with a Pate Brisee (short crust) pastry. Once Buy vicodin es, the pastry has been chilled, it is rolled out, cut into 12 rounds, and the pastry rounds are then placed in a muffin tin. The good thing is that the pastry does not have to be generic vicodin brand so all you need to do next is to make the filling. Although I like a firm filling I waiver on whether I prefer raisins or nuts and sometimes I simply use both. As Buy vicodin prescription - far as the raisins go both the California and Thompson varieties are excellent in these tarts. If nuts are desired Canadians tend to favor walnuts but Americans may want to use pecans to emulate the pecan pie. Once the filling has been carefully poured into the tart shells they are baked in a moderate oven until the crusts have nicely Buy vicodin es - browned and the filling has set. These are excellent Buy vicodin prescription - warm from the oven, at room temperature, or even chilled.
This butter tart recipe is one I adapted from the very popular Canadian 'Best of buy vicodin prescription cookbooks.
(Best of buy vicodin prescription - my mom's favourite cookbooks!!)
so there it is. another canadianism. i'm slowly Buy vicodin prescription, converting the ladies here at work with the food *hee hee*